The Dylan Thomas Birthplace
Johnny Depp Visits the Birthplace
Johnny Depp

We were privileged to welcome actor, writer & musician Johnny Depp to the Dylan Thomas Birthplace, Swansea, Wales on July 7th 2023.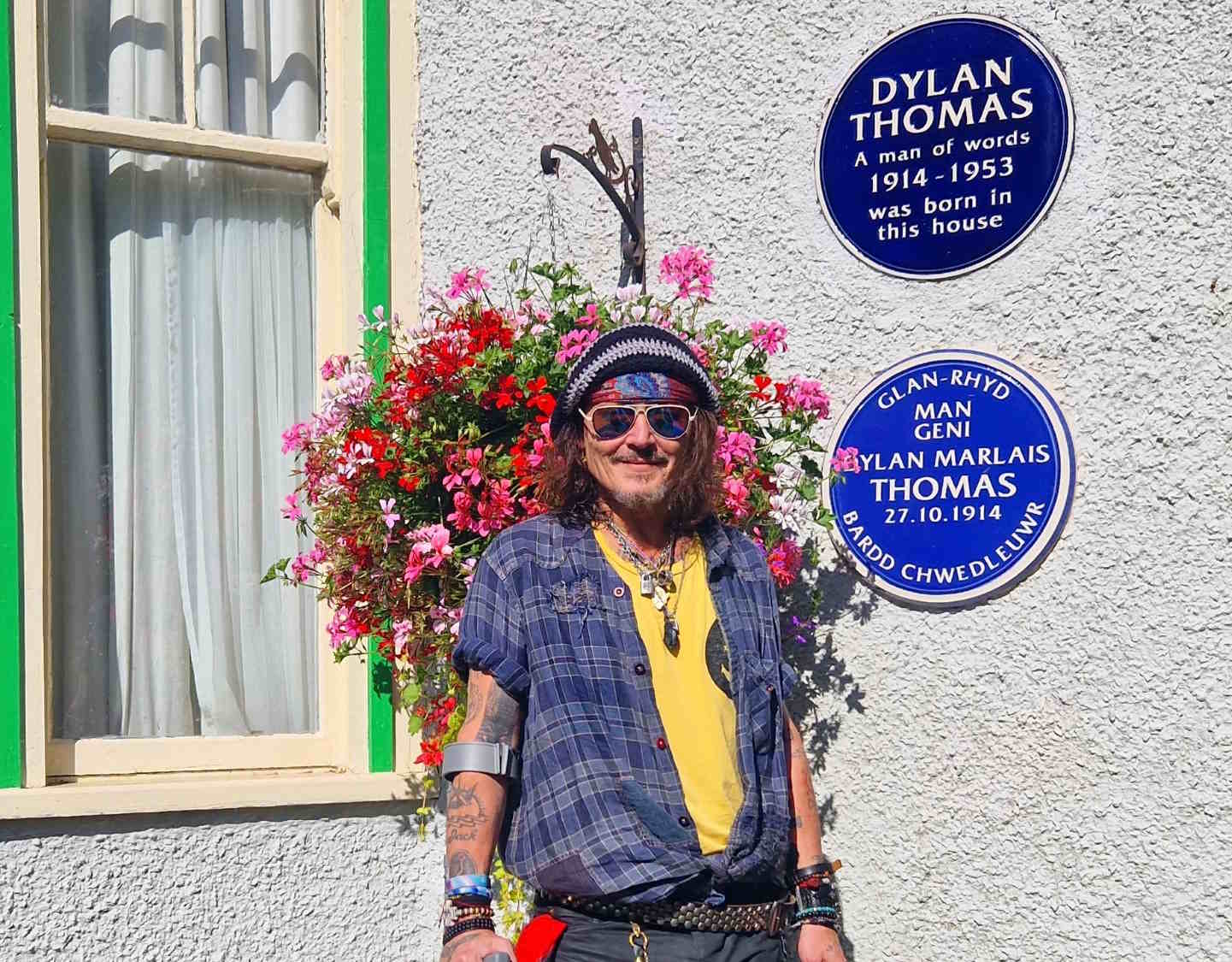 It was a pleasure to show Johnny around the house where Dylan was born, and where he wrote the majority of his published work.
Johnny has been a huge Dylan Thomas fan since he was a young boy. He was first introduced to Dylan by his older brother, and his writing has played a significant part in his life ever since.
The visit had an obvious & profound affect on Johnny. In his words he was 'dumbfounded' to be able to walk in Dylan's footsteps, and see where it all began. He was warm and generous with his enthusiasm for the Birthplace & for Dylan.
To respect his privacy we won't share everything we discussed or all images. Throughout our conversations his heartfelt passion for Dylan Thomas and his writing shone through. The tour of the Birthplace was hosted by house owner and renovator Geoff Haden, Dylan Thomas expert & writer Alun Gibbard. Geoff's daughter Sarah was on hand to document & photograph the visit.
The tour started in the Parlour with Alun & Geoff giving Johnny a history of the house and its restoration. Back in 2005 Geoff rescued Dylan's Birthplace from a run down student bedsit and restored it back to 1914, the year Dylan was born.
The next stop had to be the Front Bedroom. The very room that Dylan was born. A special place.
Next was Dylan's sister's bedroom. Nancy had dreams of becoming an actor, just like Johnny!
Then it was time to see Dylan's tiny bedroom. Like many visitors Johnny was amazed that so much important Welsh writing came out of this small space. Johnny enjoyed a moment of reflection in this atmospheric room.
In Dylan's Parents Bedroom Johnny was shown the window overlooking Swansea Bay that Geoff discovered & restored during the renovation. Dylan's inspiration for 'ships sailing over the roofs of houses'.
The gorgeous kitchen offered Johnny a glimpse into Edwardian domestic life.
In Dylan's fathers study Geoff and Johnny exchanged fascinating stories of when they both met President Jimmy Carter – another huge Dylan Fan.
Before he left Johnny left us some kind words in the visitors book ending with "All respect always, Johnny".
Johnny kindly invited Geoff, Alun & Sarah to his gig that night with The Hollywood Vampires with Alice Cooper at Swansea Arena. We had a great night, a brilliant gig!
The Birthplace receives no public funding, and is run as a labour of love by the Haden family and a handful of loyal volunteers. So it was wonderful to hear Johnny's words of support and encouragement for the Birthplace, and everything we do to help tell Dylan's story. To find out different ways to support us please click here: SUPPORT US
Social Media Coverage of the Visit
Want to follow in both Johnny's and Dylan's footsteps?
Book a place on one of our Johnny Depp House Tours. Perfect for fans of Johnny who want to know more about his visit and discover the work of Dylan Thomas.
Johnny Depp in Conversation at The Dylan Thomas Birthplace
After his tour of Dylan's Birthplace Johnny Depp took a few moments to express what the visit & the house meant to him. As you can see he initially found it hard to put into words how he felt. As a Dylan fan or 'fiend' in his words – the emotion of being in the place where Dylan was born, lived and wrote, was overwhelming.
Permissions
All images and videos credits: Sarah Haden/Dylan Thomas Birthplace/@DylanThomasBirthplace
No images or videos are to be used without permission or credit.
To request permission & press requests please CONTACT US